Avery Gallery
presents
Ships Ahoy!
opening on Friday,
June 5
from 5 - 9 pm.
Ships, Sailing, Beaches! Sail the high seas in a clipper ship. See a sailing ship being sunk by a submarine. Catch a fish in your sailboat. Sit back and enjoy the sun with a Beach Table!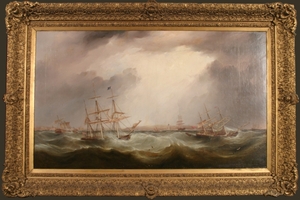 Storm of 1839
-
Samuel Walters
32" x 54" oil on canvas

Unfair Fight - Anton Otto Fischer
28" x 22" oil on canvas

12 5/8" x 8 7/8" giclee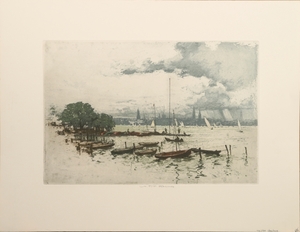 Ferry Boat - Hamburg
Tanna Kasimir Hoernes
- color etching - 11 3/4" x 17 3/4"
Maritime art has been around almost since the dawn of boating thousands of years ago. However, it did not become a more fully developed genre until the 15th century with Dutch painters at the height of Dutch naval power. This style was later followed by French and English painters.

Trenton Winter - Stephen Maxfield Parish
11 3/4" x 18 3/4" etching

Looted and Abandoned - Bernard Gribble
18 1/4" x 22" oil on board


The Fisher
22 1/2" x 30"

Rowers
8 1/2" x 13 1/2" halftone
In the 18th century the Romantic period saw marine painting rejoin the mainstream of art, although many specialized painters continued to develop the "ship portrait" genre. By the late 1800's the beach was no longer considered purely a place for work, it was regarded as a source of pleasure and enjoyment.

Eze from Cote d'Azure Suite - Thomas McKnight
27 1/2" x 28 1/4" seriograph

Rio du frari - Marcia McDade
22" x 30" serigraph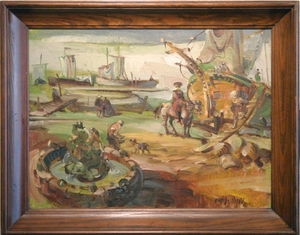 Docks
-
Forrest Jacobs
18" x 24" oil on canvas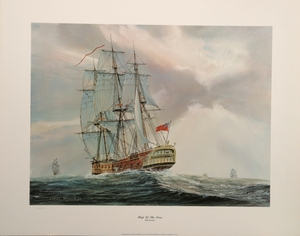 Ship of the Line
-
Will Haddon
18" x 24" halftone
Today the seas and beaches are primarily a source of relaxation and fun. And memories of times past arise in our stories.
| | |
| --- | --- |
| Beach Tables by Michael Credle in assorted sizes and shapes | The Secret of Old Zeb by local author Carmen Agra Deedy, artwork by local artist Michael P. White |
Ships Ahoy! Two and three dimensional art from the High Seas! 5 to 9 pm, Friday, June 5 at Avery Gallery. Parking is free in our parking lot next to our building and next door in front of Cobb Hardware, after 6 pm. There is also more free parking at the church across Olive Street.