Avery Gallery
presents "
Borne in Battle
" by
Brad Quinlin
and
Jason Rusk
on May 5 from 5 - 9 pm. It is the Regimental Book and Eyewitness accounts of the
123rd New York Volunteer Infantry
12th and 20th Army Corps during the Civil War.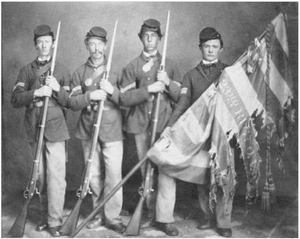 It is transcribed from the original handwritten information secured in the National Archives in Washington D.C. These official military records have never been in print before and are hard to believe; but all true.

Colonel Archibald McDougall
Commander of the 123rd Regiment

123rd New York's "Silent Seven" Reunion
Devil's Den, Gettysburg National Battlefield Park, Pennsylvania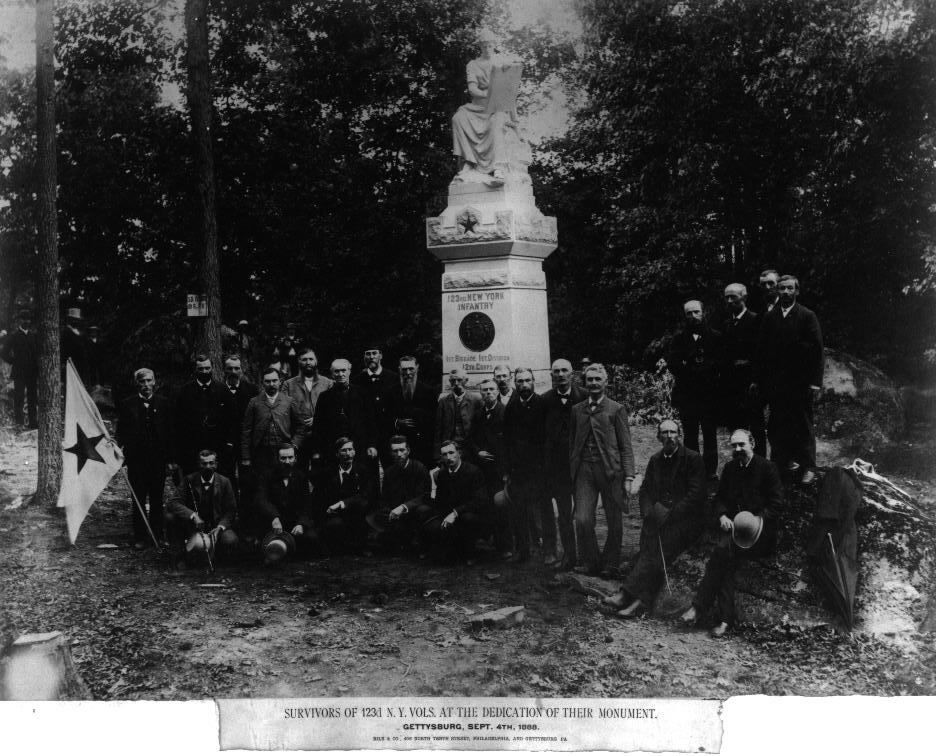 123rd New York Monument Dedication - 1888
Gettysburg, Pennsylvania
Included is the long road to
Resaca
, Pine Mountain and Kennesaw Mountain,
Johnston's Chattahoochee River Line
, the
Battle of Peachtree Creek
& the Siege and occupation of Atlanta, Sherman's march to the sea & the Carolina Campaign,
Grand Review of the Armies
&
Sherman's Farewell to the Troops
.
Brad Quinlin
is a noted historian and genealogist and the author of
Duty Well Performed
and many other titles. His inclusion of General's orders and letters to and from soldiers make the real wartime images come alive to readers. He is also willing to share more stories when you meet him in person. His current work includes the new United States Colored Troop exhibit for the
Atlanta History Center
and is a researcher for the
Kennesaw Mountain National Battlefield Park
visitor's center movie:
Kennesaw: One Last Mountain
and PBS 5-part mini-series
"Civil War: The Untold Story."
Jason Rusk
is a former Marine having served in the Gulf War and Colombia, South America chasing Pablo Escobar. With a Master's Degree in Leadership, this is his first book.
Borne in Battle - 5 to 9 pm, May 5 at Avery Gallery
. Parking is free in our parking lot next to our building and next door in front of Cobb Hardware, after 6 pm. There is plenty of parking at the church across Olive Street.