Avery Gallery
presents "
Dynamic Ceramics by Ann Wallin
" on Friday,
November 6
from 5 - 9 pm.
"I always have enjoyed contact with the public and I enjoy the comments that are prompted by my work. I especially like the idea that strangers may enjoy my art enough to decorate their homes or to present my pieces as gifts.

I look forward to many more years of forming shapeless lumps of clay into fresh expressions of my imagination." - Ann Wallin
Beginning in 1960, Ann found a special calling in pottery while taking a sculpture class at
Radford University
, Radford, VA. Twenty years passed after college before she found herself taking a pottery class at the
Gibbs School of Art
in Charleston, SC. Her calling found a new home with the potter's wheel.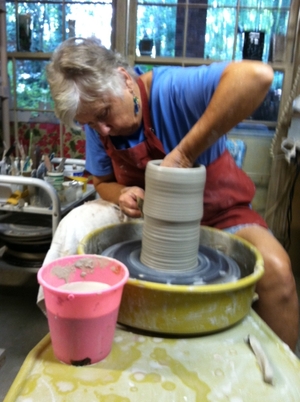 After relocating to Marietta, GA Ann realized that she wanted to continue with clay -- not as a hobby, but as a full-time career. After working as a pottery studio assistant, she gained the experience and insight on opening her own studio.
In the 1980's, she was offered the opportunity to teach at the newly established art center called "The Steeple House". By 1990, Cobb County opened
The Art Place - Mountain View
. She continued teaching creative clay projects to children as well as teaching wheel and hand building techniques to teens and adults. Other teaching locations have been the Marietta - Cobb Museum of Art and her own studio.
One of the highlights of her career occurred in 1998 when the crew of the "Lynette Jennings Design" television shows visited Ann's studio to film her Raku creation process. This series of television shows showcased artists and craftsmen from around the country and was broadcast nationwide on the Discovery Channel. The show segment that featured Ann's work has been rerun repeatedly after its initial presentation.
"
I truly enjoy all kinds of pottery. Each technique offers its own set of challenges.
" - Ann Wallin
Dynamic Ceramics!
Raku Pottery by Ann Wallin - 5 to 9 pm, Friday, November 6 at Avery Gallery
. Parking is free in our parking lot next to our building and next door in front of Cobb Hardware, after 6 pm. There is plenty of parking at the church across Olive Street.