Upcoming Events
First Friday Artwalk - 2013
ArtWalk - October 4, 2013 -
Avery Gallery
presents the
Raku Pottery
of
Ann Wallin
. Exhibition opens
Friday, October 4
. Meet and talk to the artist from
5 to 9 pm
.
Live string music by Shelley House and friends. Additional Persian music by Marjan Tavakoli playing the
Daf
and
Tanbur
.
"I always have enjoyed contact with the public and I enjoy the comments that are prompted by my work. I especially like the idea that strangers may enjoy my art enough to decorate their homes or to present my pieces as gifts.

I look forward to many more years of forming shapeless lumps of clay into fresh expressions of my imagination." - Ann Wallin
Beginning in 1960, Ann found a special calling in pottery while taking a sculpture class at Radford University, Radford, VA. Twenty years passed after college before she found herself taking a pottery class at the Gibbs School of Art in Charleston, SC. Her calling found a new home with the potter's wheel.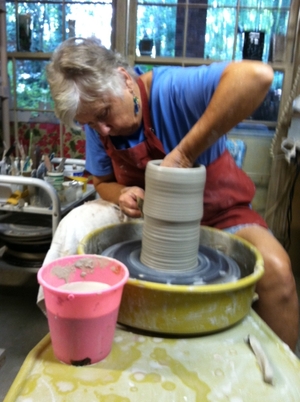 After relocating to Marietta, GA Ann realized that she wanted to continue with clay -- not as a hobby, but as a full-time career. After working as a pottery studio assistant, she gained the experience and insight on opening her own studio.
In the 1980's, she was offered the opportunity to teach at the newly established art center called "The Steeple House". By 1990, Cobb County opened
The Art Place - Mountain View
. She continued teaching creative clay projects to children as well as teaching wheel and hand building techniques to teens and adults. Other teaching locations have been the Marietta - Cobb Museum of Art and her own studio.
One of the highlights of her career occurred in 1998 when the crew of the "Lynette Jennings Design" television shows visited Ann's studio to film her Raku creation process. This series of television shows showcased artists and craftsmen from around the country and was broadcast nationwide on the Discovery Channel. The show segment that featured Ann's work has been rerun repeatedly after its initial presentation.
"
I truly enjoy all kinds of pottery. Each technique offers its own set of challenges.
" - Ann Wallin
Over the years, Ann has won many awards. She has participated in juried exhibits, and she has been accepted in major regional and national shows.
Meet and talk to Ann Wallin. Learn about her style and process for making raku pottery.
5 to 9 pm, Friday, October 4 at Avery Gallery
. A delicious taste of
GG's Creole Cuisine
will be served and liquid refreshments will be available. Parking is free in our parking lot next to our building and next door in front of Cobb Hardware, after 6 pm. There is also a church across Olive Street that has plenty of parking within an easy walk.
Artwalk - September 6, 2013 - Avery Gallery is excited to welcome back Hubert Wackermann & Sons of Natives for the September Artwalk! We also will showcase Music of Marjan, music from Persia!
Hubert Wackermann
Gaylon Nelson & Andrew Molina - Sons of Natives
Hand made flutes

Marjan Tavakoli
3-string Tanbur and Daf frame drum
Though born and educated in West Germany, Hubert Wackermann is eminently qualified to depict his favorite subject matter; the North American Indian, his natural surroundings, and relevant wild life. Wackermann's superlative Indian pictures are the result of an intimate knowledge of his subject matter through travel, study, and living with Indians. Thus, the prime characteristic of his work is authenticity, enhanced by exquisite detail and the constantly changing hues of nature's colors.
Wackermann's first study trip to North America in 1969 provided the opportunity to visit the Indians of Canada. Subsequent trips to Canada, the United States, and Mexico in 1971, 1973, 1974, and 1975 provided further opportunities to more thoroughly research the Indian, his culture and lifestyle. Upon immigration to Canada in 1976, Wackermann lived for a year on the Six Nations Iroquois Reservation in Southern Ontario. During this time, he taught art classes, and had the opportunity for more in-depth study.
In 1977, Wackermann immigrated to the United States through Puerto Rico, where he was married. In 1980, Wackermann, his wife, and three children settled in Rio Rancho, New Mexico. This location provided occasion for continued study and observation of Indians of the Southwest.
Now living in Marietta, GA, Wackermann continues to tell the stories of the daily lives of Native Americans through his paintings. He is close friends with several families in tribes in Canada and southwestern states who are members of Cree and Mohawk, Lakota Sioux, and Navajo.
About Sons of Natives
Sons of Natives is a group of men with diverse cultural backgrounds. They have been inspired by their history and love to play flutes and Native American music.
Andrew Molina is a Mayan/Apache mixed blood from San Antonio, Texas, and dad of Ryan Little Eagle Molina. In the eighties, Andrew graduated from Texas A&I University with a BFA and a Masters in Art. He worked as a Graphic Designer at Oberthur Gaming Technologies and transferred in 2007 to Scientific Games in Alpharetta, Georgia. With both parents as musicians, Andrew eventually found his musical calling on the Native American flute. He has performed at several powwows and is currently with Donna Redfeather and Women of Heart Drum Group as their flute player.
Gaylon Nelson is from Danville, IL and is part Choctaw and Cherokee.=20 Around the Atlanta area Gaylon is a well-known bass guitar player.=20 Locally, Gaylon played the bass with Zack Brown and band "A Life Interrupted". Gaylon also plays the acoustic guitar, the djembe drum, and the stand-up bass. Gaylon is of African and Native-American heritage. He enjoys attending Native-American festivals and powwows. Gaylon has been playing the Native-American flute for eight years. He is a member of the Georgia Flute Circle, Atlanta.
About Marjan Tavakoli
Born in Tehran, Iran in 1981, Marjan Tavakoli began playing Daf at the age of sixteen, under the supervision of Shabnam Sahrayi. She followed her musical life with the Tanbur, a 3-stringed instrument, after two years learning Kurdish music and maqam repertoire along with its spiritual contexts under the supervision of the leading tanbur player, Ali Akbar Moradi.
She has performanced as a member of Lavach group playing tanbur and daf and also collaborated with other groups such as Mehr ensemble perf orming several concerts in Italy.
Now living in Marietta, GA, Marjan enjoys educating others about classic Persian instruments and music.
---
Artwalk - August 2, 2013 - Avery Gallery is proud to present the art of VENYI Kossi Dégboè (Frédéric) from the country of Togo in West Africa for the August 2013 Artwalk! Also presented will be works by Henry Porter, William Pinkney, John Truit, and more.
Shae and Gwenda's son Brandon Avery discovered Frederic during his 2 years in the Peace Corps. Since returning home, Brandon has worked to promote issues in Togo and is working to build trade between the Togolese people and Americans.
Born in Apeyeme, Frédéric lived with his mother and 7 siblings after his father died when he was 5. Due to his mom's determination and his upbringing, he completed high school but wasn't able to successfully pass the BACII (graduation test).
Three years later he found himself being drawn to art. He left his village and travelled to Kpalimé where he began studying the art of Batik production. He finally was graduated in 1997 and has found his true calling in the arts.

To stay current, he creates decorative batiks, dyed pagnes, and T-shirts. He has also partnered with the Peace Corps volunteers in Kpalimé and participated in the Peace Corps' artisanal fair in Lomé, the capitol of Togo.
Frédéric's goal is to save enough money to create a large workshop where he can work with underprivileged children and teach them the art so that they can support themselves and pursue their own educational goals. He would also like to visit the U.S. in the future.
Henry Porter

(1921 - 2009) - Raised near Raleigh, NC he moved to New York and he operated his own freelance graphic studio in New York City for over 30 years. He moved to Kennesaw in 1980 and changed to fine art painting. Over the years he earned over 300 awards for his work. Avery Gallery is proud to have known and supported Henry since his arrival in the Atlanta area.

William Pinkney

(1959 - present) - William studied fine art at East Carolina University and North carolina Centra University. He has had showcased numerous shows in North Carolina and in the Atlanta area. His primary mediums have been oils, acrylics, graphite, pen and ink, and pastels.

"Buck" - John Truitt
Meet and talk to Brandon Avery and hear about some of his experiences while in the Peace Corps at this exhibit from another continent - 5 to 9 pm, Friday, August 2 at Avery Gallery. A delicious taste of GG's Creole Cuisine will be served and liquid refreshments will be available. Parking is free in our parking lot next to our building.
---
Artwalk - June 7, 2013 - Avery Gallery is excited to have a selection of glass artisans for June's ArtWalk. They each have different styles, colors, and techniques to produce fantastic glass art.
From stained & blown to etched & slumped, these artists develop masterpieces on a daily basis. Feature articles have been written about them in Georgia Magazine, Piedmont Review, and the AJC. Several also tutor those wishing to learn more about glass and it's artistic abilities.
Matt Janke provides unique blown glass in a variety of sizes and shapes.

For nearly 20 years Matt has been on one mission ... to expose and promote the art of glass blowing throughout the Southeast.

In Atlanta, you'll find his work placed as the signature chandelier at the Sweetwater 420 Brewery, pendants at The Optimist and Watershed on Peachtree Restaurants, the Triple Block sculpture and chandelier at Block Lofts and the signature sculpture in One Midtown Plaza as well as many other locations. Most recently, Matt was an artist market judge for the 77th Annual Atlanta Dogwood Festival.
Doug & Pam Mayer design and build etched, fused & painting on glass. From panels to lamps, they allow light to find it's own unique way through. Since 1975 they have been creating quality architectural glass art in the Atlanta area near their home as well as for spaces across the country and around the world. Today, their work hangs in such varied places as the Taipei Hilton in Taiwan, University of Arkansa in Little Rock, and in Elton John's shower in his Atlanta penthouse.
For over 35 years, Charles Offutt has produced unique stained glass pieces with exquisite detail.
To enter Offutt's workshop is to step into another world - a world where art and craftsmanship come together to create paintings without brushes. "There's just so many things you can do if you use your imagination. I love a challenge, doing something new. Each little piece of glass stands out and makes it on its own."
Jeff Loose and Yuka Tadokoro create modern art in glass as well as restore older stained glass pieces. They are the budding of the next generation of glass artisans in Metro Atlanta.
Jeff's journey to the arts was not a foregone conclusion. Running around in the woods and inspired by nature, this native Atlantan initially went to college for a degree in biology. After an elective class in sculpture revealed how the process of scientific discovery is similar to the process of artistic discovery, he devoted his life to artistic research.
Yuka's journey has spanned the world. She graduated from the Tama Art University in Tokyo, Japan and studied under Master Hideo Matuda in France. She moved to the Atlanta area in 2011.
We will also have a piece of Steuben glass and a variety of several pieces of different color and shape Blenko glass. Also a stoppered floral piece of antique cranberry glass.
---
Artwalk - May 3, 2013 - Avery Gallery welcomes international photo-journalist Scott MacQuarrie from Ontario, Canada. He is currently focused on large format fine art photography and extreme landscapes in particular. His latest body of work from Antarctica has collected five national and international awards so far.
Scott is very active in professional photography organizations and has been a member of the Canadian Association of Journalists (CAJ) for almost ten years. In 2008, the PPA awarded him the coveted CPP degree, held by less than ten photographers in Canada and less than 2,000 worldwide. In 2010, he was awarded general (voting) membership in the ASMP. Besides, the PPA and ASMP, he is also a member of PPOC, APA-EP, EP-Canada, and EP-UK. He was recently invited to join the X-Rite Coloratti community, a select group of currently 80 photographers considered to be experts in color.
In addition to being a world-renowned photographer, Scott is also Autistic. After being diagnosed at the age of 46, he realized that he had taught himself many of the same coping skills educators now teach children.

He was also worried about whether to tell anyone and whether it may change people's opinions of his work. A conversation with another photographer friend changed his mind. The friend was worried about his son who was autistic and whether or not he would thrive in life.


Scott decided that the real value of his experiences would be for younger autistics to understand that autism comes with some benefits and that they can do whatever they want to do in life

Scott will also be available on Saturday, May 4, for talks concerning autism and the arts throughout the day at Avery Gallery. Please contact us for more information.
A taste of GG's Creole Cuisine will be served and refreshments will be available. Parking is free in our parking lot next to our building.
---
The 2013 Artwalk season kicks off on Friday, April 5 from 5 to 9 pm in Marietta! Avery Gallery is proud to announce Marlan Yoder as our first artist and author. We also will have live acoustic music by JUNGOL, a local Atlanta band.
Yoder's style crosses the lines of surrealism, abstract, and impressionism while rendering his own brand of pointillism in the process. As you gaze at his landscapes, the deeper messages become clear.
His book, "The Muck Memoirs", is a fictional coming of age story based on Yoder's youth.


JUNGOL, a local Atlanta band, will be playing live rock and electronic ambient music. They played at SXSW 2012 in Austin, TX and have been noted by several magazines for their music.
Come join us for this wonderful evening of art and music! Parking is free next to our building. Light hors d'oeuvres and refreshments will be available.
©Avery Gallery 2013